MAZIC® Duro
Nano Hybrid Ceramic for CAD/CAM (mandrel-type/Cerec-type blocks)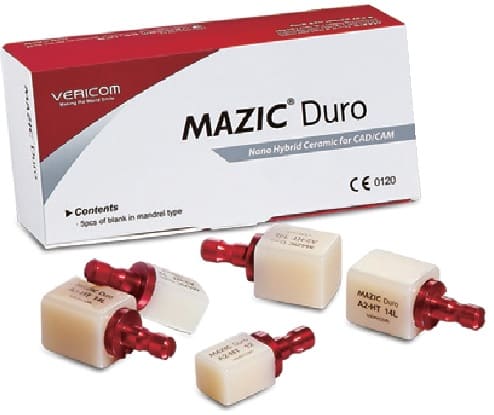 Elasticity & Easy Workability · High Flexural Strength · Stain Resistance · Excellent Esthetics
Excellent esthetics and durability!
MAZIC® Duro is an advanced Nano-Hybrid ceramic, consisting of ca.80% of Nano-particle sized ceramic fillers (zirconia, silicate) and 20% of high-density, hardening resin matrix. MAZIC® Duro has advantages of both high-density resin matrix and ceramics at the same time. You can take elasticity, easy workability of high-density resin matrix and also strength, stain resistance as well as aesthetics of ceramics.
MAZIC® Duro applies to various prosthesis such as inlays, onlays, veneers and single crown with 1-Day treatment and makes sure of higher standard of esthetics than other materials, in spite of easy and simple workings only with CAD/CAM system.
TRANSLUCENCY & SHADES
Translucency
Shade
HT (High Translucency)
A1
A2
A3
A3.5
A4
B1
B2
B3
B4
LT (Low Translucency)
A1
A2
A3
A3.5
A4
B1
B2
B3
B4
FEATURES & BENEFITS
Natural tooth-like esthetics and elasticity
High flexural and compressive strength
Excellent stain resistance
Easy add-on with composite resin
Excellent cementation
Easy handling for adjustment of occlusal surface
No firing and glazing: saving time, equipment and spaces
Prosthesis treatment in 1-Day
PHYSICAL PROPERTIES
Physical Properties – Comparison with Other Materials
MAZIC® Duro has the closest physical properties and esthetics comparing with natural teeth and flexural/bonding/compressive strength are much better than glass ceramic as well as indirect resin. Realize the best esthetic prosthesis that every patient wishes with MAZIC® Duro.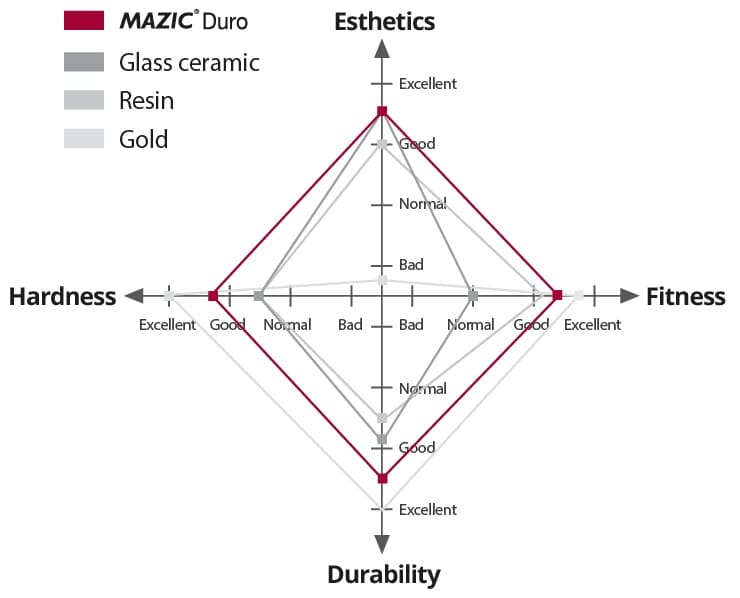 Flexural Strength [MPa]
High flexural strength makes possible to use the material for a long time in oral.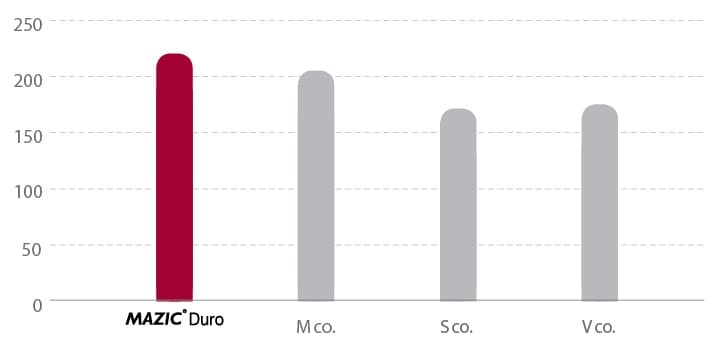 Compressive Strength [MPa]
High compressive strength makes resistant to the stress of chewing.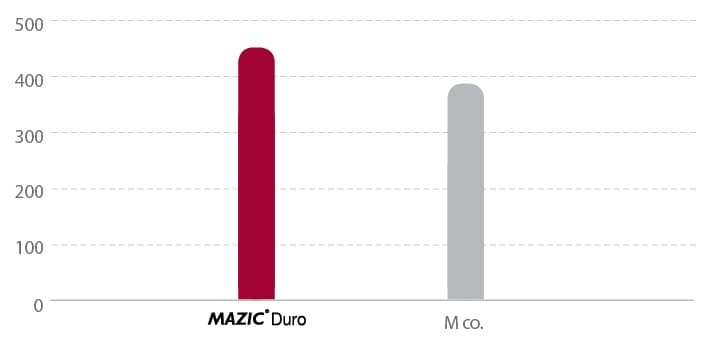 Vickers Hardness [HV]
High vickers hardness makes resistant to micro-wear.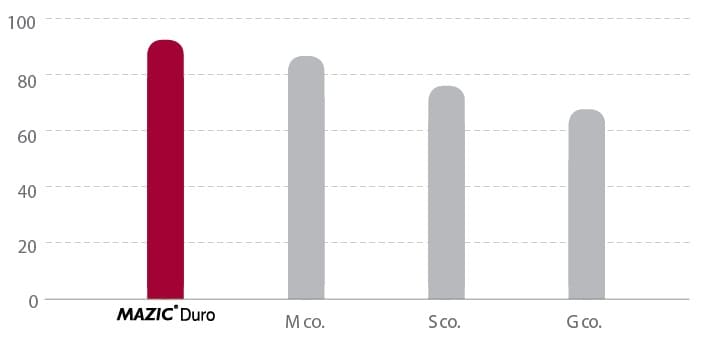 Modulus of Elasticity [GPa]
Modulus of elasticity similar to natural teeth minimizes the damages of antagonistic teeth as well as prosthesis.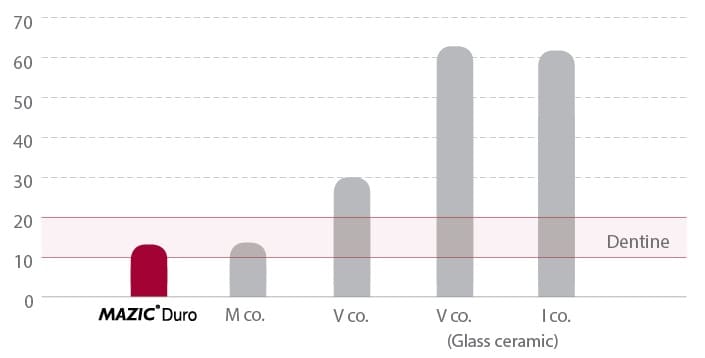 Wear Resistance
High wear resistance makes long-term use due to the high resistance to chewing and surface wear by food or toothpaste.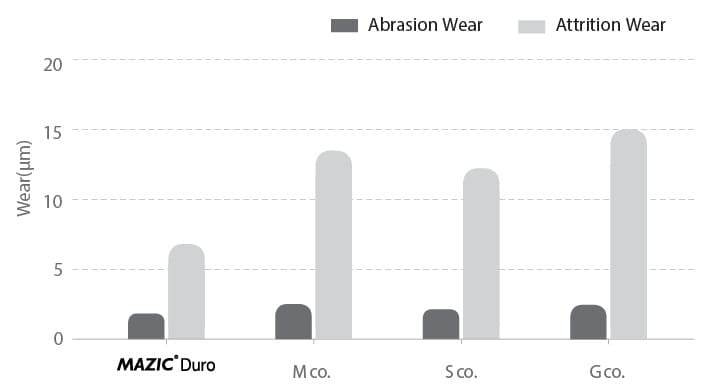 Stain Resistance
Low stain resistance maintains esthetics for a long time due to no shade variance of prosthesis.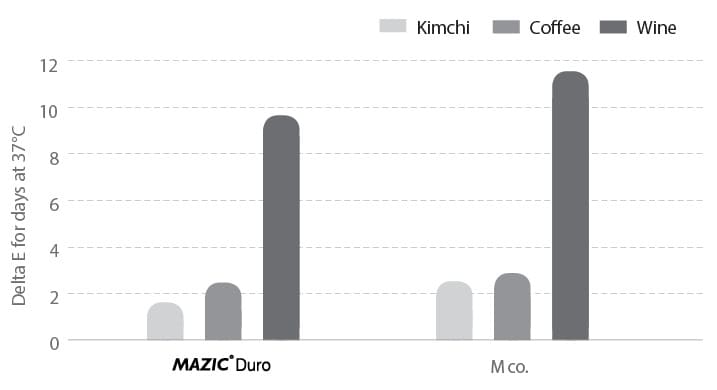 Bonding Strength [MPa]

Patent On Control Technique Of All Direction Shrinkage-stress
The patent technology for assuring high workability and esthetics by equally dispersing the stress of particular directions.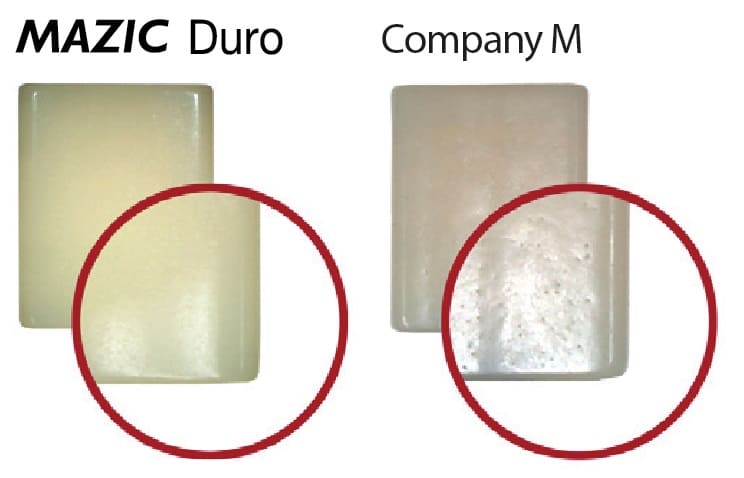 Fluorescence
MAZIC® Duro shows natural esthetics even in mouth due to the fluorescence similar to your teeth.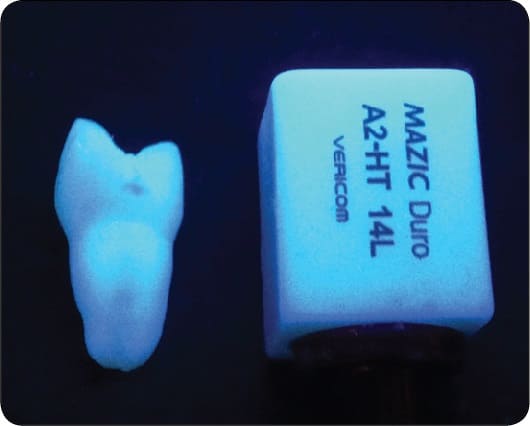 Radio-opacity
MAZIC® Duro is easy to check dental procedures with high radio-opacity.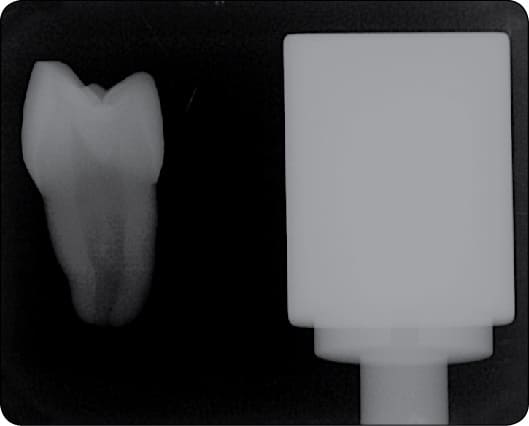 INDICATION
MAZIC® Duro is available for fabricate single teeth such as:

Inlays
Onlays
Veneers
Full crowns
PREPARATION GUIDELINES

MAZIC® Duro follows a prep-guideline of all ceramics restoration.
Inside of the edge and angle should be round.
It is recommendable to prep rounded shoulder and chamfer.
The numerical values in guide-lines are the minimum thickness of prosthesis by MAZIC® Duro.

✔ DO'S

:

In case of crown, prep tooth with 5~6˚ taper, rounded edges and shoulder margin.
Remove residues(temporary cement, tooth-debris and scanning spray) by a brush or soft pumice.
Gently clean with water and blow dry by air. (Do not dry completely)

❌ DON'TS

:

Do not use chemicals after prep. (Example : EDTA, CHX, Bicarbonate, Hydrogen peroxide, Hyper-esthetic agent)
Do not use laser etching.
Do not use temporary cement in types of eugenol affiliation.
POLISHING PROCEDURE
1. Removing sprue by diamond disc.

2. Grinding with cerapol wheel.
3. Polishing with rubber point.
4. Polishing with silicon point.

5. Polishing with a soft brush applied by diamond paste.
6. Finish with cotton wheel.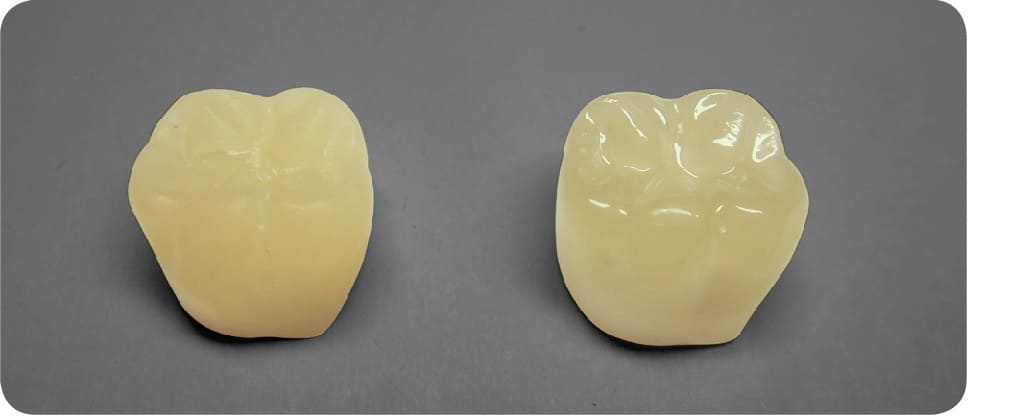 Comparison of gloss before and after
GLAZING PROCEDURE
1. Sand blasting with 25-50㎛ alumina. Clean using ethanol, steam and ultra sonic cleaner. Dry sufficiently.

2. Mix well before use MAZIC® Glaze.
3. Painting and coloring MAZIC® Glaze stain liquid to restoratives with brush tips.
4. Light cure.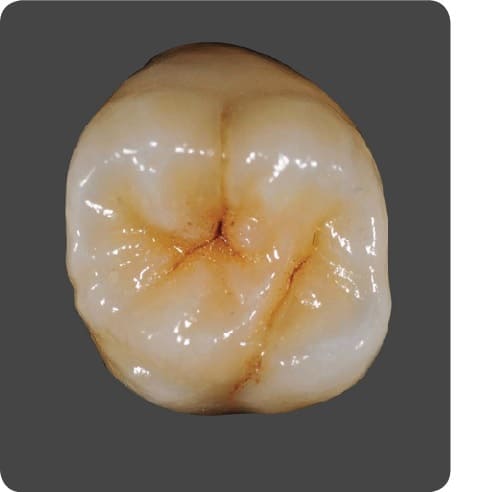 Occlusal application sample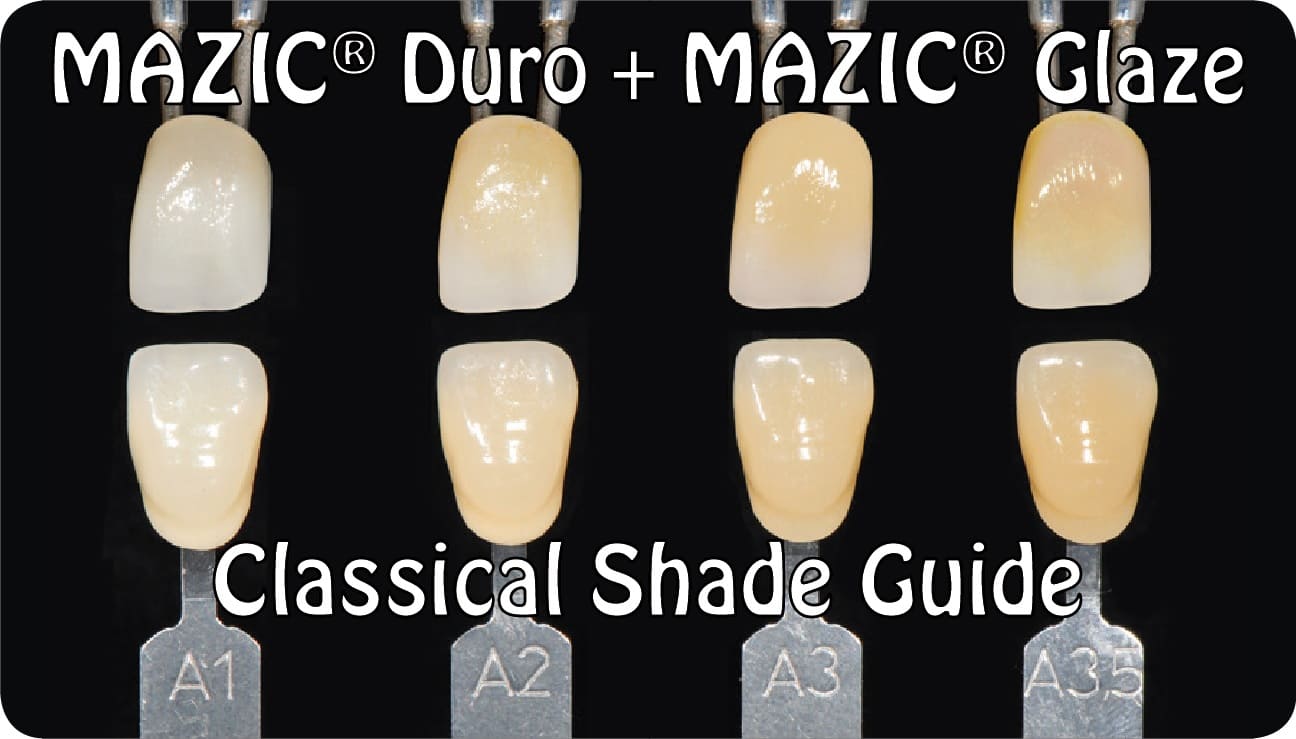 Shade guide and Color expression
CEMENTATION GUIDELINES
1. Intraoral Try-in
Check out proximate and occlusal surface between prosthesis and teeth. Trim the surface.

2. Sand Blasting
Sandblast with 25-30㎛ alumina (0.2MPa). Clean with oil free air syringe and with ethanol.
2.5 Etching (optional)
Etch inside of prosthesis with 5% of Hydrofluoric acid for 20 sec. and clean by neutralizing agent.
3. Silanate
Before cementation, apply silane primer and dry for 60 sec.
4. Cementation
Apply high performance self-adhesive or adhesive resin cements.
5. Final Restoration
Hold restorations in place until cement sets. And remove excess cement.
ADD-ON GUIDE
Easy repair with our light-cured composite resin is possible.
1. Prepare Add-on part rough.

2. Apply for EsBond® twice to Add-on part.
3. Dry enough with soft air (Approx. 10 sec.).
4. Light-curing for Approx. 20 sec.

5. Apply for Es∙Flow® to Add-on part.
6. Light-curing for Approx. 20 sec.
7. Finalization by polishing the part of Add-on and surroundings.
PACKAGING
5 x mandrel-type/Cerec-type, Nano Hybrid Ceramic blocks (WxLxH: 14.5 × 14.5 × 18 mm)
APPLICATION
CLINICAL CASES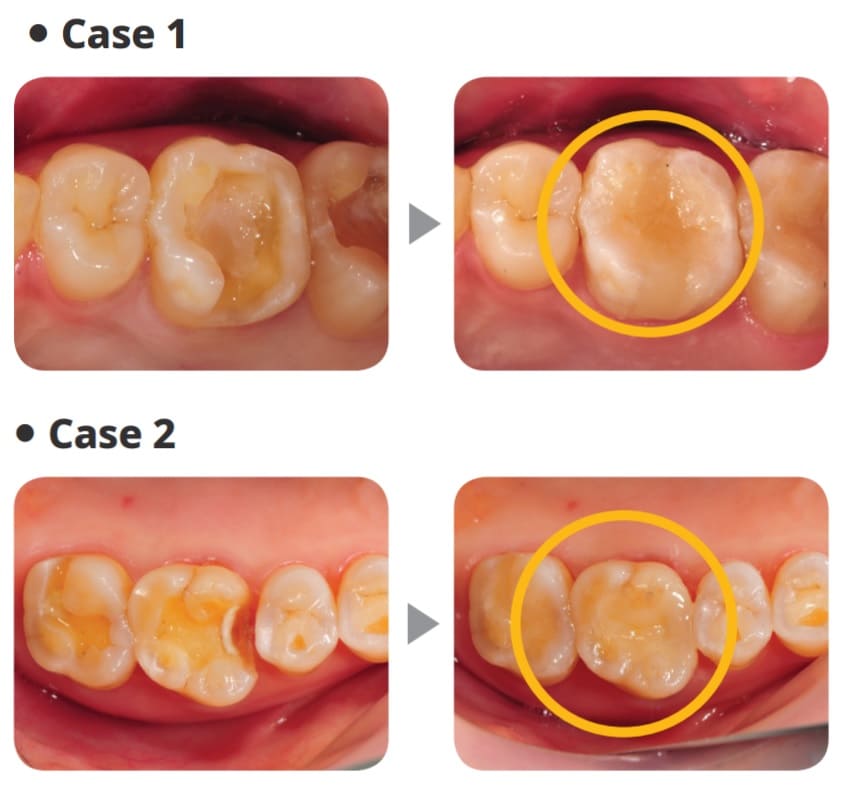 MANUFACTURER
"Making the World Smile"
VERICOM, since its establishing 1998, has quality first principles as the key to management. Since old times, teeth have been said to be one of the most important things in our body. So, the quality of dental materials is the most important when considering the role and function of teeth.
Vericom was founded by researchers with experience and technology accumulated from the research of photopolymers and composite resin materials in large laboratory. With more than 10% of total sales invested in research and development, R&D plays a leading role among domestic dental material companies and releases the first new products in Korea every year.
Currently, it has developed into a global company that provides innovative products in various fields to dentists and dental technicians. More than 60 products are currently in production, from the world's second developed digital material "MAZIC Duro" in 2015 to recently produced 3D materials, and we have obtained over 10 overseas certifications such as CE, FDA, etc.
Starting with the $10 million export tower in 2018, the product is being used in more than 100 countries. We are operating a local corporation in the United States, and we are trying to grow into the number one company in Asia and the Pacific.
We want to be remembered for a long time as a company that enables communication with humanity in the world and is needed for a healthy society with a smile like Vericom's management philosophy of "Making the World Smile". All of Vericom's employees will make efforts to become a company that is always the best in quality and faithful to the basics.
DENTAL ADHESIVE MATERIALS
CAD/CAM MILLING MATERIALS
3D PRINTING MATERIALS